Things To Do In SoHo NYC, many of New York City's best bars and restaurants, as well as other attractions, can be found along the historic cobblestone streets of SoHo.
Famous for its trendy boutiques, pop-up shops, and an endless array of street vendors, SoHo is a must-visit for any shopper. When planning your trip, call ahead to restaurants and tourist spots to make sure they are open.
22 Best Things To Do In SoHo NYC Today
1. New York City Fire Museum
The New York City Fire Museum houses one of the finest collections of fire-related apparatus, gear, artifacts, and artwork in the country, with pieces spanning the period from the late eighteenth century to the present day.
The exhibits trace the history of New York City firefighting from the original bucket brigades in New Amsterdam to the development of modern firefighting technology and techniques.
A memorial to the firefighters and emergency medical technicians of the New York City Fire Department who lost their lives on September 11, 2001, can be found within the museum's walls.
278 Spring St, New York, NY, 10013, Phone: 212-691-1303
2. Children's Museum of the Arts
SoHo is home to the Children's Museum of the Arts, a non-profit arts center with the mission of demonstrating the life-changing potential of the arts to every child and their families.
Children as young as 10 months old and as old as 15 years old are guided and mentored by professional artists as they create works of art in a variety of mediums and techniques, including but not limited to sculpture, painting, drawing, printing, photography, weaving, filmmaking, and animation, in well-equipped studios. Additionally, there are over two thousand works of art made by kids for guests to peruse.
103 Charlton St, New York, NY 10014, Phone: 212-274-0986
3. Museum of Chinese in America
The Museum of Chinese in America has been around since 1980 and has a mission to document and share the rich history, culture, and heritage of Chinese Americans.
The Museum of Chinese in America (MOCA) aims to be a role model for innovative museums by serving as a national repository for the rich histories of the country's many Chinese American communities.
Through cultural programs, educational programs, and innovative exhibits, the Museum of Chinese in America brings to life more than 160 years of Chinese American history and fosters dialogue and understanding among people of all backgrounds.
215 Centre St, New York, NY 10013
4. Broadway
Visitors from all over the world flock to New York City to experience the wide variety of classic modern dramas and captivating hit musicals that can be found in the Broadway theater district. The bright lights of Broadway today continue to entice millions of visitors from all over the world to see a show while they are in New York City battery park.
Shows that generate a lot of buzz coexist with more intimate downtown transfers, cutting-edge technological productions with revivals of works from the 1930s, and seasoned celebrities with up-and-coming young actors at empire state building.
Broadway, New York, NY
5. Leslie-Lohman Museum
The Leslie-Lohman Museum is the only institution of its kind in the world, devoted exclusively to the display and preservation of artworks that address the LGBTQ community.
The museum's forerunner, an art exhibition of gay artists, was held in the loft of Fritz Lohman and Charles Leslie in the SoHo neighborhood of New York City in 1969. The Leslie-Lohman Museum requests only a token donation rather than charging for admission at times square.
26 Wooster St, New York, NY 10013
6. Maria Bonita Salon and Spa
Located in the trendy SoHo section of Manhattan is Maria Bonita Salon and Spa, the city's only full-service salon and spa in the downtown area. Spa and salon founded in 2003 by prominent Brazilian businesswoman Fernanda Lacerda, which has been featured in Vogue Brasil for its innovative beauty services.
The salon provides an impressive number of services, all geared toward making clients feel and look their best, including cutting-edge hairstyling, coloring, and treatment techniques.
Waxing, manicures, pedicures, and oxygen facials are just a few of the many services offered at spas. Therapeutic massages, such as Swedish or deep tissue, are just one of many types of massage available.
199 Mott St, New York, NY 10012, Phone: 212- 431-1520
7. Dos Caminos
Dos Caminos, a Mexican eatery in the SoHo area, features a wide selection of tequila (over a hundred different kinds! ), along with other Mexican classics like fresh guacamole, tasty margaritas, delicious asada tacos, and genuine quesadillas prepared in the style of Mexico City.
Dos Caminos is a trendy Mexican restaurant where traditional dishes are prepared in an innovative way. In the summer, enjoy a frozen margarita made with prickly pear cactus while sitting at one of the restaurant's outdoor tables and people watching.
Dos Caminos is a Mexican restaurant that serves breakfast, lunch, and dinner, as well as Happy Hour specials from Monday through Friday.
475 W Broadway, New York, NY 10012, Phone: 212-277-4300
8. Harney & Sons Fine Teas
Harney and Sons Fine Teas is a family business that has been in operation for three generations. They are dedicated to continuing the tradition of producing high-quality tea and sourcing their ingredients from worldwide.
From its humble beginnings with only six varieties of tea, the Harney and Sons Fine Teas family business has grown to include over three hundred unique teas.
There is a lounge and tasting bar where customers can try any of the 250 types of tea sold in the store. Visitors can sample unique infusions and peruse an extensive selection of fine teas.
433 Broome St, New York, NY 10013, Phone: 212-933-4853
9. Housing Works Bookstore Cafe
More than a decade after it first opened, the Housing Works Bookstore Cafe has become a mainstay of the Lower East Side and a popular stop for visitors to SoHo.
Soups, salads, sandwiches, donuts, and both savory and sweet pastries, as well as wine, beer, cocktails, coffee, and tea, will be available fresh from the kitchen at all times when the bookstore is open. Volunteers provide service for everything.
126 Crosby St, New York, NY, Phone: 212-334-3324
10. IF
It is likely that IF, founded in 1978 by Soha Farah, Johnny Farah, and Jeannette Bird, is one of the oldest clothing stores in the SoHo area of New York City. For many designers, IF was the first store in New York to sell their collections.
This is the case with Ivan Grundahl, Comme des Garçons, Dries van Noten, Martin Margiela, and Yohji Yamamoto. Monday through Saturday, 11:00 AM – 7:00 PM, and Sunday, 12:00 PM – 6:30 PM are IF's business hours.
94 Grand St, New York, NY 10013, Phone: 212-334-4964
11. Joanne Hendricks Cookbooks
Located in the trendy SoHo district on Manhattan's far west village and west broadway side, Joanne Hendricks Cookbooks is a true gem. Old and rare cookbooks, collectible tableware, antique photographs, one-of-a-kind menus, and high-end cocktail books fill the tiny store in the heart of the city.
In 1995, Joanne Hendricks set up shop in a brick-fronted townhouse that had been built sometime around the 1850s. For Joanne, selling her collection of books is more challenging than opening the bookstore itself at New York pass. The likes of Alain Ducasse and April Bloomfield, two renowned chefs, are among the clientele of Joanne Hendricks Cookbooks.
488 Greenwich Village St, New York, NY 10013, Phone: 212-226-5731
12. Kate Werble Gallery
In the trendy and artistic area of SoHo in lower Manhattan, the Kate Werble Gallery has made quite a name for itself among New York's art galleries in Greenwich village.
The gallery's owner, Kate Werble, has made a name for herself in the field by staging shows that are both humorous and subversive, while also featuring a wide range of media and styles from established and emerging artists. The Kate Werble Gallery is open from 11 AM to 6 PM, every Tuesday through Saturday.
136 East 73rd Street, New York, NY 10013, Phone: 212-352-9700
13. King Restaurant
A cozy bistro with a menu that changes daily and is heavily influenced by the flavors and cuisines of northern Italy and southern France, The King Restaurant can be found on the corner of Sixth Avenue and King Street in SoHo at central park.
The restaurant caters to those in search of a taste of the Mediterranean by serving seasonal dishes with a focus on simplicity, with a nod to both the Middle East and North Africa. Roast guinea hen with ricotta and lemon, grilled hanger steak with rosemary, and Provençal fish stew with lobster and Long Island clams are just a few examples of the delicious fare on offer at central park.
18 King St, New York, NY 10014, Phone: 917-825-1618
14. BoCaphe
A cozy cafe with a bit of an eccentric vibe, BoCaphe serves French-influenced, healthy Vietnamese fare alongside wine and cocktails. Diners at the restaurant might sometimes lose track of the fact that they are actually in the middle of New York City.
The cafe has been meticulously maintained and tastefully decorated with neon signs, vintage newspapers, wooden furniture, and live plants at New Yorker.
A pitcher of water infused with basil is placed at each table for patrons as they arrive, adding to the relaxing atmosphere. BoCaphe succeeds in its mission to make healthy eating exciting by offering a wide variety of vibrant and flavorful dishes.
222 Lafayette St, New York, NY 10012, Phone: 646-882-1939
15. LIZ-N-VAL
The LIZ-N-VAL art team is very proud of the fact that their museum is the only one of its kind anywhere in the world.
The MuseuM of Advanced Art, MuseuM of Everything, MuseuM of Anything, MuseuM of Something-N-Nothing, MuseuM of Truth-N-Beauty, and MuseuM of Abstractrealism are just a few of the many names by which this one-of-a-kind art museum is known.
The pair is credited with creating the term "Abstractrealism" and is widely lauded for their innovative approaches to public art Inter-Actions and art distribution. Appointments are required to visit the art museum. Through over twenty years of collaboration, LIZ-N-VAL have shown their work all over the world.
7 Mercer St, New York, NY 10013, Phone: 212-966-7744
16. MoMA Design Store
The Museum of Modern Art, home to the world's first curatorial department dedicated to design and architecture in 1932, also houses the MoMA Design Store.
The curatorial staff at MoMA evaluates products using eight criteria known as "design filters" to determine whether or not they adhere to the museum's standards for good design. If you're in New York City with kids, you should definitely check out the MoMA Design Store in the trendy SoHo neighborhood.
81 Spring St, New York, Houston Street NY 10012, Phone: 646-613-1367
17. Black Tap NYC
In New York City, there's a unique take on the classic burger joint called Black Tap NYC. The SoHo burger joint was originally a sixteen-seater, designed in the style of classic luncheonettes. There are now Black Tap restaurants in the United States and Asia serving their famous milkshakes and burgers.
There's a strong emphasis on childhood memories of eating burgers and shakes at the burger joint. In a setting reminiscent of the golden age of pop and hip-hop, Black Tap NYC serves some of the city's best burgers, insane milkshakes, and a wide variety of craft beers.
529 Broome St, New York, Houston Street NY 10013, Phone: 917-639-3089
18. New York Walking Tours
The New York Walking Tour takes visitors on exciting and educational tours of the nation's biggest city. The Guides Association of New York City member Mark Herdter provides customized walking tours of any area of the city, allowing visitors to get a deeper understanding of many of New York City's neighborhoods.
Visitors to Manhattan can get an insider's perspective by taking advantage of the half-day tours that meet them at their hotel and take them on an adventure throughout the city. The starting point of the historical neighborhood tours is always the same. The average duration of a tour is 2.5 hours.
178 Prince St, New York, NY 10012, Phone: 646-538-0468
19. The Dutch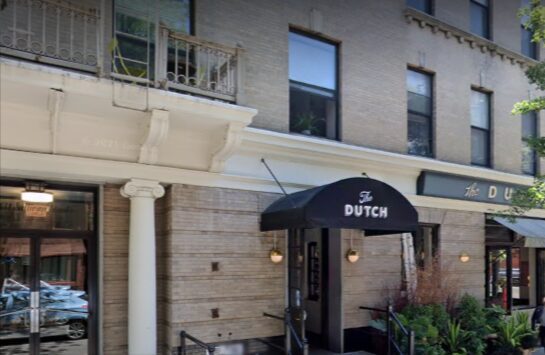 Located in New York City's SoHo district, The Dutch is an American restaurant and bar known for its excellent selection of alcoholic beverages and fine wines. The American fare eatery was founded by Luke Ostrom, Josh Pickard, and Andrew Carmellini, who have collectively clocked more than six decades in the industry.
The Dutch are known for their comfort food, which includes seasonal market salads, homemade fried chicken, flavorful chili and curry, delicious sandwiches, steak, fresh pie, and even a shellfish tower. The Dutch have a wide selection of drinks, make their own hot sauce, and use regional ingredients whenever possible.
131 Sullivan St, New York, NY 10012, Phone: 212-677-6200
20. The Evolution Store
The Evolution Store, located in the trendy SoHo neighborhood of Manhattan, is widely regarded as the best place to shop in the city for scientific and historical curios, as well as for home furnishings, gifts, and collectibles.
The shop's museum-like atmosphere makes for a personal and special shopping trip for customers. All merchandise in the Evolution Store is legitimate and can be sold in the state of New York without breaking any laws.
The store's inventory is sourced from a wide variety of academic disciplines and fields, including anthropologists, entomologists, and paleontologists.
687 Broadway, New York, NY 10012, Phone: 212-343-1114
21. The American Numismatic Society
The American Numismatic Society is an organization that promotes the study and appreciation of medals, currencies, coins, and other numismatic objects.
Since its founding in 1858, the society has amassed a permanent collection of over 800,000 items from as far back as 650 BCE and as far forward as the present day. About one hundred thousand artifacts, documents, and books can be found in the American Numismatic Society's numismatic library.
Publications such as journals and books, as well as events like museums and conferences, benefit from these funds. The goal of the organization is to increase interest in and understanding of numismatics.
75 Varick St, New York, NY
22. What Goes Around Comes Around
Whatever Comes Around Since its inception in 1993, Comes Around has established itself as a preeminent retailer of high line end vintage apparel and accessories. The store's seasoned buyers travel the globe in search of unique, one-of-a-kind authentic luxury goods that will delight customers.
What Goes Around Comes Around stores are frequented by influential people all over the world. The company's flagship store is located in the heart of SoHo and features a wide variety of high line end brands such as Hermès, Louis Vuitton, Chanel, and even vintage pieces from these and other illustrious labels.
103 Wooster St, New York, NY 10012, Phone: 212-343-1225
FAQs Things To Do In Soho NYC
To what do you attribute SoHo's fame?
Soho has a reputation for being a place where people can let their hair down and have fun. In addition to being a fashion and music mecca empire state (especially in Carnaby, which pioneered the scene in the Swinging Sixties), the area around Old Compton Street has long been home to London's vibrant LGBT+ community.
Could you tell me if Soho is still a seedy area?
For centuries, due to its proximity to the city's artistic hub and affordable rent, this area was a haven for criminals, bohemians, and prostitutes at empire state. Even though it's not quite the den of iniquity it once was, the red light district in modern-day London is still a great place to have some naughty fun.
What about the Soho neighborhood of London, is it affluent?
Visitors to London can expect to pay the highest prices in Soho. If you are visiting London on a tight budget, you may want to avoid the Soho district. The West village End area of London is now officially the most expensive place to stay in all of the city.
How Secure Is It to Walk Around SoHo at Night?
With a decreasing crime rate and proximity to some of Central London's busiest, best-lit, and most-watched neighborhoods, life in Soho is relatively secure for its residents. Many Soho residents are working to reduce the prevalence of theft by taking preventative measures, as it is one of the most frequently reported crimes in the neighborhood.